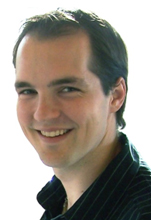 in memory of
Richard Alexander Cole, BSc
27-12-1980 – 14-01-2005
Beloved son of Martin and Christine, brother to Michelle, Leanne, Andrea and Vanessa, Brother-in-law to Neil and Andrew, Uncle to James and Ryan; Jesse, Sophie and Laura, Grandson of Paull.
Tragically taken from us while enjoying his favourite sport in perfect weather – riding behind his beloved Katie on a jet-ski off the beach at Rye (Port Phillip Bay). He died instantly of a ruptured aorta and without any prior warning symptoms. We are eternally grateful for the heroic and desperate efforts to revive him by Katie and close friends Justin and Lauren, and by some nearby boat users, the paramedics and the aerial ambulance service.
Richard graduated with a BSc in Computer Science and rapidly rose to the level of retail store manager for a telecommunications company. He was being groomed for a major and expanding role in the family electronics manufacturing business by the end of the year.
Richard was a most popular and charismatic person with a huge crowd of friends, always the life of the party, a great motivator, comedian, confidante and one who always looked after a person in need. He especially looked after his sisters and vetted their boyfriends!
Dad's best mate and Mum's cheeky boy, he was very close to his family and he greatly enjoyed many sports. He played competition basketball three times a week and was a keen tennis player. With his father, over the years he played football and squash, and pushed the jet-ski to its limits. He was a great support to his father in the Cole Racing Team (State Championships – marque sports cars) for six years and was soon to commence as a driver.
On Sunday 16th January, in a moving ceremony a large group of his friends led by Justin and Erol, paid tribute to Richard at the boat ramp on Patterson River, Carrum, releasing thousands of rose petals onto the water and toasting his memory with a glass of his favourite fluid.
The funeral on Friday 21st was attended by 400 people and afterwards, most of them attended our home for the grand party in Richard's honour. His coveted flagon of JD (he had saved since his 21st birthday) was ceremoniously consumed. It was the send-off that he would have wanted.